NIRMAN has a multi-disciplinary team of professionals with extensive sectoral experience in millets-based farming system, ecological farming, rural development, land tenure, rain water management, natural resources management and governance, climate change adoption, community empowerment and issues related to food and nutrition security. NIRMAN also hires the services of consultants/subject specialists as and when required.
He is associated with various networks within India and abroad. His academic portfolio includes MA in Development Planning & Administration.
Mr. Suresh Chandra Bisoyi
Working with NIRMAN as a Senior Program Adviser since April 2018 but prior to this he was closely associated with NIRMAN…
Mr.Niranjan Dalai has completed degree in Commerce with Honours, having more than 25 years of working experience…
Accounts-cum- Administrative Officer
Ratan has been working as Accounts-cum-Administrative Officer with NIRMAN and looking after all financial and administrative matters…
Mr. Prashant is working as an Accountant for last nine years. After Graduation in Commerce, he joined NIRMAN
Assistant Accountant-cum-MIS In-charge
Ms. Baishali has completed her graduation in commerce. She has 2 years of work experience in the finance team of NIRMAN.
Debasis has been working in NIRMAN since April 2020 and associated with Land Access, Tenure and Rights programme components of the organisatio…
Kailash has been working in NIRMAN more than 4 years and is coordinating an integrated natural resource management program…
Mr.Rabi Narayan Parida, having a Social Science background, is working with NIRMAN as Programme Officer since last 2 years.
Mr. Manasha is working as Program Officer with NIRMAN since June-2018 and is coordinating the CR- and CFR program in the Thuamul Rampur Block.
Mr. Santosh Kr. Parida, being a Program Officer in NIRMAN, has been looking after the community mobilization and is facilitating claim filing…
Dambaru is of Social Science background with computer skills having active involvement in community mobilisation…
Satya has been working as Project Coordinator with NIRMAN since June- 2018. Overall, he is facilitating the Special Millets program…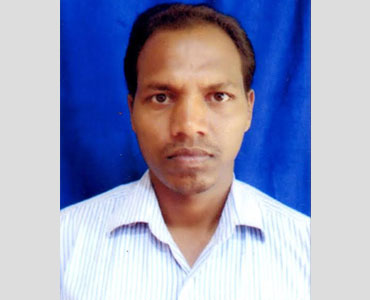 Mr. Hiroj is working in NIRMAN since last three years. He is coordinating the Special Millets Program in the Kotagarh Block of Kandhamal…
Additional Project Coordinator
Santosh Kumar Samal is graduate in Social Science and has one year experience in the development sector.
Additional Project Coordinator
Mr.Pranab Bhoi has obtained Master's degree, with a decade long experience in the field of social development.
Mr. Satya is having graduation in Social Science with 3 years of experience in the development sector…
Mr.Sadasiba Sahoo has been working in NIRMAN as a District Facilitator for smooth implementation of the project on Pulses Promotion
Ms. Shradhanjali Mohapatra
Ms.Shradhanajali, has completed Post Graduation in Social Work (MSW) with seven years of working experience in agriculture and social work.
Mrs. Anita hails from a farming community and has a strong belief in the approach of the Organization. Anita is a self- motivated person…
Mr. Kailash Chandra Kadraka
Kailash is a graduate in Social Studies from Berhampur University. He has 4 years' experience in community mobilization…
Swapna is working as Block Coordinator at Tumudibandha Block of Kandhamal District in Special program…
Additional Block Coordinator
Sigma is working as Additional Block Coordinator at Tumudibandha Block of Kandhamal District in Special Program of Revival of Millets.
Deepak has been working as Office Assistance with NIRMAN since last 4 years. He is very active and meticulous.